Objectives
Define and describe developmentally appropriate materials.
Identify key considerations when selecting materials, as well as the benefits to infants, toddlers, and caregivers.
Choose toys and materials that represent the cultures, interests, and learning goals of your space.
Learn
Know
Curiosity drives infants and toddlers to investigate and explore their environment. Secure relationships and exploration encourage infants and toddlers to play with and manipulate a variety of materials and gain a sense of pleasure while learning. Most infants learn to explore objects with all their senses: seeing, touching, hearing, tasting, and smelling. Through safe exploration, they also begin to develop ways of learning and gathering information about objects.
Understanding infant and toddler development, as well as the role of play, can help caregivers select materials to meet young children's unique needs and interests and support their development and learning.
Selecting Materials
Caregivers have many choices when selecting materials for an infant or toddler environment. The materials help set the stage for learning. Infants and toddlers may feel a sense of security and make connections when they are able to see and play with materials also found in their home. They should be exposed to items that are beautiful, ignite curiosity and engagement, and invite connections to their cultural identities. Early-childhood educator Ann Pelo writes, "Teachers learn about children's family and cultural identities and integrate those identities into the daily life of the classroom, at the same time as they acknowledge the ways in which their own cultural identities shape their teaching" (2008, p. xi). 
While infants and toddlers explore materials that are interesting to them, the caregiver can help make the experience meaningful. Caregivers should select materials that are:
Culturally relevant and anti-biased: Do these materials reflect equality and respect within the racial, ethnic, cultural, linguistic, and family diversity of the program and of the broader community? Do these materials embrace individual differences?
Developmentally appropriate: Do these materials allow infants and toddlers to play in a variety of ways? Do they support the abilities of each individual? Do these materials help us reach important learning goals for infants and toddlers?
Linked to children's interests: Do these materials reflect the infants' and toddlers' current interests and help spark new ideas?
Culturally Relevant and Anti-Biased
Infant and toddler play and learning materials should be culturally relevant and anti-biased. But what does that mean? Cultural relevance means your choice of materials should reflect the backgrounds, community, knowledge, and experiences of the diverse children in your room. An anti-biased approach means that you support and embrace the differences within each individual. By choosing materials that validate and empower children of all racial, ethnic, familial, and social backgrounds, as well as diverse abilities, you will build a bridge between children's home and school lives that will provide a strong foundation for learning. "Bringing in artifacts and natural objects from the local community or neighborhood offers opportunities for children to experience and understand their immediate world" (Duncan, Martin, & Kreth, 2016, p. 13).
There are many simple ways to expose children to positive images of people from a variety of backgrounds:
Display pictures that represent all children, families, and staff in your program.
Display pictures of men and women in a variety of jobs (police officer, construction worker, teacher, chef).
Include items that represent cultures from around the world (scarves, cooking utensils, musical instruments).
Stock your learning space with books that give positive messages about age, gender, race, culture, special needs, different types of families, and linguistic diversity (e.g., alphabet and counting books from various cultures, including American Sign Language).
Ask family members to lend you items from their homes.
Provide dolls that represent a range of ages, races, and abilities.
Play traditional and contemporary music from around the globe.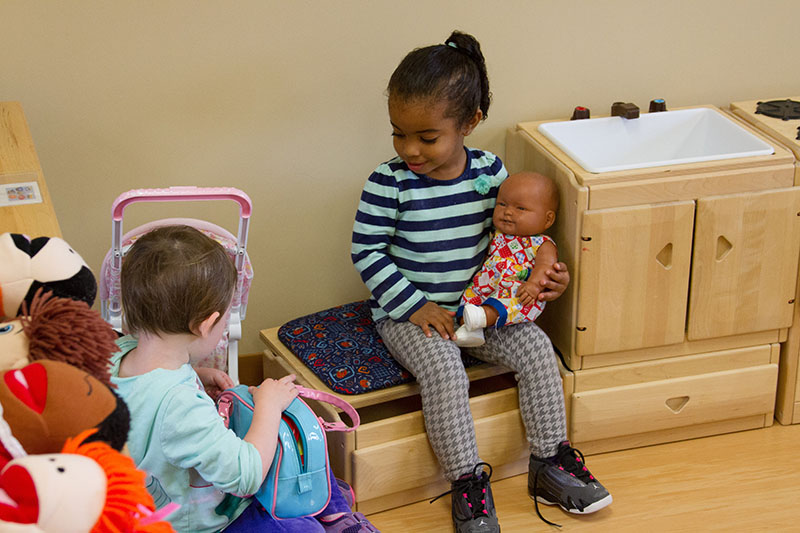 Above all, remember to engage families in making your learning space a culturally appropriate space. Display framed pictures of families and create family books with the children. Encourage family members to share their home language and help you label items in the room with words from that language.
Developmentally Appropriate
Toys and materials in your learning space should be developmentally appropriate. This means they should match the stage of development and abilities of the children in your care. Because children develop at different rates, choosing developmentally appropriate materials means you should have a range of toys available that can accommodate differences between individual children's skills, experiences, interests, and characteristics. A room stocked with developmentally appropriate materials "fits" the child—the child should not have to adjust to "fit" the learning space!
In infancy and toddlerhood, children develop and change dramatically. Caregivers should consider what toys and materials match their current development and how materials can support ongoing development and learning. For example, looking at and reading books with infants and toddlers can support the following types of development:
Emotional: Book reading and quiet book areas give infants and toddlers an opportunity to relax and recharge.
Social: Looking at books with a caregiver or friend can help strengthen a relationship.
Motor: Turning the pages of a book uses and enhances fine-motor skills.
Language: Caregivers can read with and help infants and toddlers explore books, pictures, and new words.
Cognitive: Infants and toddlers are introduced to new words, text, and pictures.
Developmentally appropriate toys and materials facilitate learning through play. When such items are offered in a safe environment, infants and toddlers can move around and interact with them and with each other. If toys are too difficult or advanced, infants and toddlers may become frustrated. In addition, if toys are too simple, they may become bored and seek to entertain themselves in unsafe ways (e.g., running throughout the room or climbing on furniture). Through interactions, caregivers can help infants and toddlers explore developmentally appropriate materials and see themselves as the competent and capable learners that they are.
One element to keep in mind when offering developmentally appropriate materials is having multiples of favorite items whenever possible. Having duplicates of coveted items (e.g., dolls, trucks, or musical instruments) will decrease infant and toddler frustration and encourage positive interactions between children. It is important to remember there are many other natural opportunities for infants and toddlers to begin learning about "turn-taking" and negotiation with caregiver guidance. For example, toddlers may negotiate who will go down the slide next or older infants will learn to take turns sharing their song ideas during group time.
When considering developmentally appropriate materials, be sure to include the creative arts. These might be materials that you plan to offer with certain interest ideas, or ones that you plan to use with small groups or individual activities. These items can include crayons, markers, paints, dot markers, paintbrushes, sponges, etc. It is important to provide children with these early creative experiences so that they have opportunities to get acquainted with art materials and to learn about their uses. Make sure that you plan for time and space when offering these ideas. All materials should be safe and nontoxic. You can learn more about incorporating art into the infant and toddler learning environment in the Creative Expression course.
Examples of developmentally appropriate materials include:
Younger infants (6 weeks - 6 months):
High-contrast pictures
Soft rattles
Mirrors
Play mats or play gyms
No-tear or board books
Older infants (about 6–12 months):
Soft blocks for building
Baby dolls
Large balls
Nesting toys (e.g., plastic cups)
Plastic and wood vehicles with wheels
Board books
Cause and effect toys
Toddlers:
Wooden puzzles with 4–12 pieces
Dress-up clothes, puppets
Chalkboard with large pieces of chalk
Blocks
Transportation toys
More detailed picture books
Refer to the Meeting Infants' and Toddlers' Needs: Developmentally Appropriate Materials (Apply section) attachment for excellent guidelines for selecting toys and materials for infants and toddlers.
As you learned in the Safe Environments course, you should make sure the materials you provide are safe. All materials in your learning space should be made for infants or toddlers (including size and shape). Ensure your room is free of toxic materials (such as certain plants or art supplies). Make sure you carefully supervise materials that could be difficult for the developmental skills of younger children.
Linked to Children's Interests
Caregivers can build on infants' and toddlers' play by providing engaging toys and materials during interactions and experiences. Effective materials are safe and complement the infants' and toddlers' abilities, strengths, and interests. For example, if a toddler expresses interest in animals, the caregiver can add plastic animal toys to the sensory or block area where the toddler enjoys playing.
Materials that can be used in a variety of ways and that meet infants' and toddlers' developmental needs can provide a sense of security. Opportunities created for infants and toddlers to easily access, have fun with, and manipulate materials will meet their interests and learning styles. These appropriately selected materials and carefully planned opportunities will help infants and toddlers: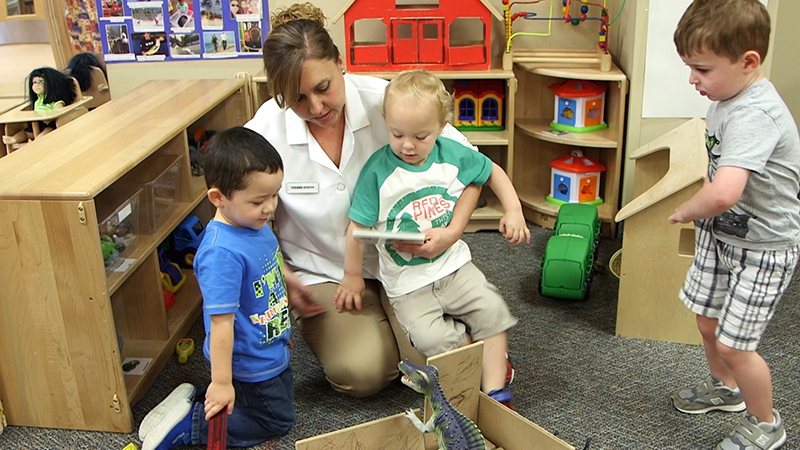 Feel competent and recognize they are capable of doing different things.
Express their unique ideas
Develop self-help skills.
Interact and build relationships with their caregivers and peers.
Feel calm and supported.
Explore and experiment.
To support infants' and toddlers' interests, remember to rotate toys and materials as their ideas evolve. Materials should reflect the current interests of the children, the developmental skill level, and serve as a provocation for extending their learning. When an item is no longer being used, it becomes a source of frustration, or if it does not reflect the children's interest, swap it for something new. You can also change the type, amount, or placement of materials to give the children a new perspective on their ideas. For example, you can offer different sizes, shades, or types of crayons, or you can try removing the crayon wrapper for a different sensory experience.
Keep in mind that some families may not value play the way other families do. Some families may not have an environment that allows for safe play or a tradition of special time or floor play with their infant or toddler. Learn about families, seek to understand differences, and discover what is most important to them for the care of their infants and toddlers.
Open-Ended Materials
Not all toys are created equal. Some toys spark imagination and some hinder it. You might have noticed that young children are often more interested in the box than the toy that came inside. Why? Because the box can become anything. It becomes a drum when you hit it, a house when you put a doll inside it, a hat when you put it on your head, and a mask when you play hide and seek behind it. The possibilities are endless. Infants and toddlers learn and explore more when a toy is only limited by their imaginations. Remember that loose -parts and provocations can be used. Consider the following list and think about why toys spark or limit imaginative play.
Toys that may limit imaginative play:
Action figures or plastic dolls with preset accessories or movements
Toys that talk, sing, or dance
Toys that are branded, such as with a TV show or popular character
Toys and materials that spark imaginative play:
Dress-up clothes
Large and small boxes
Baby dolls
Musical instruments
Writing and art materials
Items that are open-ended or can be used in a variety of different ways (e.g., blocks, scarves)
Linked to Developmental Goals
It is perhaps most important to think about why you have selected the materials in your room. Ask yourself: how will this toy or material help infants and toddlers meet their individual learning and development goals? What will they learn from it? Use your knowledge of learning and developmental standards for infants and toddlers and your curriculum guidelines to shape your classroom decisions. Select a variety of materials that will help individual children in your classroom work on their current developmental or learning goals. Think about the ways you can engage with each individual to enhance the experience. What ways can the responsive language you use promote the cognitive understanding of the world around them?
Look for materials that promote infant and toddler development in a variety of ways. For example, perhaps you have play gyms with a variety of materials for younger infants to grasp, kick, and move to assist with their fine- and gross-motor development. These materials could be constructed out of different colored and textured fabrics so as infants and caregivers interact with them, caregivers can make comments about the different characteristics ("I see you just grabbed the red string," or "Oooh, that one feels soft, doesn't it?") These comments help children's cognitive understanding of the world around them and build their early vocabularies.
See
Watch this video for more ideas about the selection and use of materials to support learning and development in infant and toddler care.
Do
When it comes to selecting materials for infants and toddlers, be sure to:
Talk to a trainer, coach, or administrator about materials that are most appropriate for your learning space.
Offer materials that challenge infants and toddlers but are not so complex they cause frustration.
Change materials in response to infants' and toddlers' interest, ability, growth, and development.
Include duplicates of favorite items.
Make adaptations so that all infants and toddlers can be included in experiences and can use materials in the learning environment.
Ask families to contribute materials from their own homes.
Reflect on the diversity of the materials in your learning space. If you notice any biased materials, make a change.
Explore
The materials you already have in your learning environment are powerful tools for learning. As you watch these videos of everyday experiences in infant and toddler classrooms, think about what the children are learning. Complete the Materials activity. Watch the video and complete the chart while considering how different materials affect infants' and toddlers' play, learning, and development. Share your responses with a trainer, coach, or administrator. Then compare your answers to the suggested responses.
If you are a CDA candidate, you can use the CDA Competency Statement I handout to reflect on how you establish and maintain a safe, healthy learning environment, a required item for the CDA Professional Portfolio.
Apply
Use the Meeting Infants' and Toddlers' Needs: Developmentally Appropriate Materials handout as a resource to identify developmentally appropriate materials for infants and toddlers. After reviewing the handout, use the Reflecting on DAP Materials activity to consider ways you can promote feelings of security, exploration, and learning in your environment. Compare the materials from the videos earlier in this lesson and your classroom materials to the lists here. Discuss your ideas with a trainer, coach, or administrator. For further suggestions regarding developmentally appropriate toys for infants and toddlers, see the References & Resource list.
Glossary
Culturally relevant materials:
Classroom materials that reflect the backgrounds, knowledge, and experiences of the diverse children in the classroom
Developmentally appropriate materials:
Materials that fit the stage of development children are in but still allow for differences between children in skills, interests, and characteristics
References & Resources
Cryer, D., Harms, T., & Riley, C. (2004). All about the ITERS-R: A detailed guide in words and pictures to be used with the ITERS-R. Kaplan Early Learning Co.
Daly, L., & Beloglovsky, M. (2017). Loose parts 2: Inspiring play with infants and toddlers. Redleaf Press.
Derman-Sparks, L. & Olsen Edwards, J. (2020). Anti-bias education for young children and ourselves (2nd ed.). National Association for the Education of Young Children.
Dodge, D., Rudick, S., Berke, K. (2015). The creative curriculum for infants, toddlers, and twos (3rd ed.). Teaching Strategies, Inc.
Duncan, S., Martin, J. & Kreth, R. (2016). Rethinking the classroom landscape: Creating environments that connect young children, families, and communities. Gryphon House, Inc.
Elkind, D. (2007). The power of play: Learning what comes naturally. Da Capo Press.
Greenman, J., Stonehouse, A., & Schweikert, G. (2008). Prime times: A handbook for excellence in infant and toddler programs (2nd ed.). Redleaf Press.
National Association for the Education of Young Children.(n.d.). Good toys for young children. https://www.naeyc.org/resources/topics/play/toys
National Association for the Education of Young Children. (n.d.). Great books to read to infants and toddlers. https://www.naeyc.org/our-work/families/great-books-read-infants-and-toddlers
Harms, T., Cryer, D., & Clifford, R. M. (2017). Infant/toddler environment rating scale (3rd ed.).Teachers College Press.
Parlakian, R. (2020). Building new skills: Block construction in toddler settings. Young Children.75(1). https://www.naeyc.org/resources/pubs/yc/mar2020/rocking-and-rolling-building-new-skills-block-construction-toddler
Pelo, A. (2008). Rethinking early childhood education. Rethinking Schools.
Schaefer, R. (2016). Teacher inquiry on the influence of materials on children's learning. Young Children. 71(5). https://www.naeyc.org/resources/pubs/yc/nov2016/teacher-inquiry-materials