Objectives
Provide and make available to staff a well-equipped professional resources library.
Ensure monthly training is completed and work with child-development professionals to ensure modules are completed.
Model effective practices in designing a learning environment for children and adults.
Learn
Building a Professional Library
An important part of your role as a manager is ensuring that staff members have access to the resources they need to do their jobs well. Staff will often need professional development resources. These resources can take many forms: books, magazines, videos, curriculum tools, educational materials, website guides.
The Apply section of this lesson offers six tips for building a professional resource library. Here is a quick-hit version of those tips:
Request a subscription to the journals published by professional organizations.
Look for useful books. Throughout the Virtual Lab School you will find suggested readings. These books may be helpful additions to your resource library. You can also browse publishers' tables at professional conferences for the latest titles.
Help staff find appropriate websites. Again, professional organizations are a good place to start. Many have links to important resources.
It can be very helpful to construct a lending library of child and youth literature, toys, games, and other materials. These types of materials can help staff members find the resources they need right away and turn an idea into reality. This also helps avoid duplication of resources across a program.
Many curricula come with professional development resources. These may be videos, guides, or supplements. Keep any of these materials that staff are not using in a centralized location so they can be found when needed.
There are many ways to include cutting-edge video in your professional library. The Virtual Lab School is a free source of such video. See the Apply section for more ideas.
It can be helpful to see examples of programs' professional resource libraries. Look at these photos of well-stocked professional libraries and quality work spaces for staff members. Are there ideas you can use in your own program?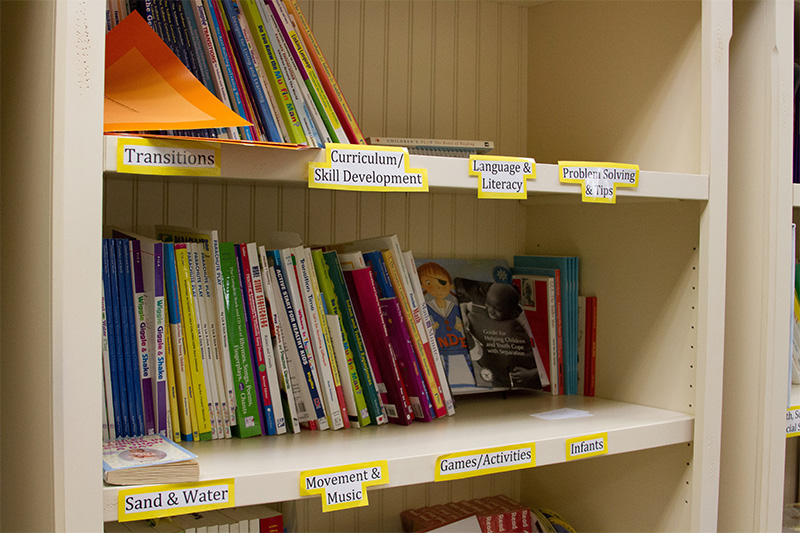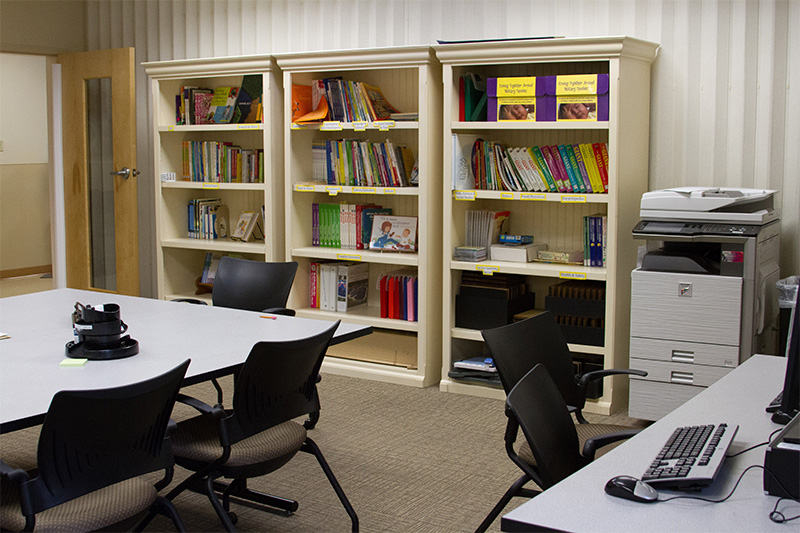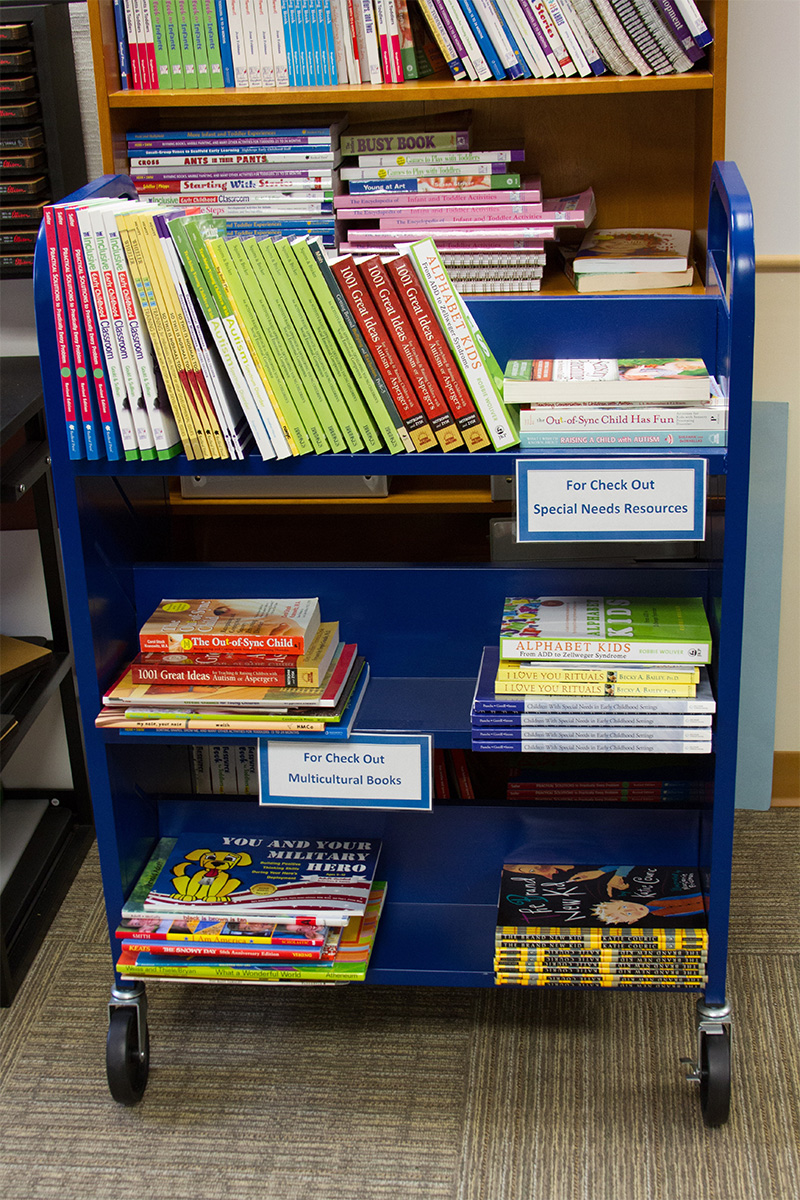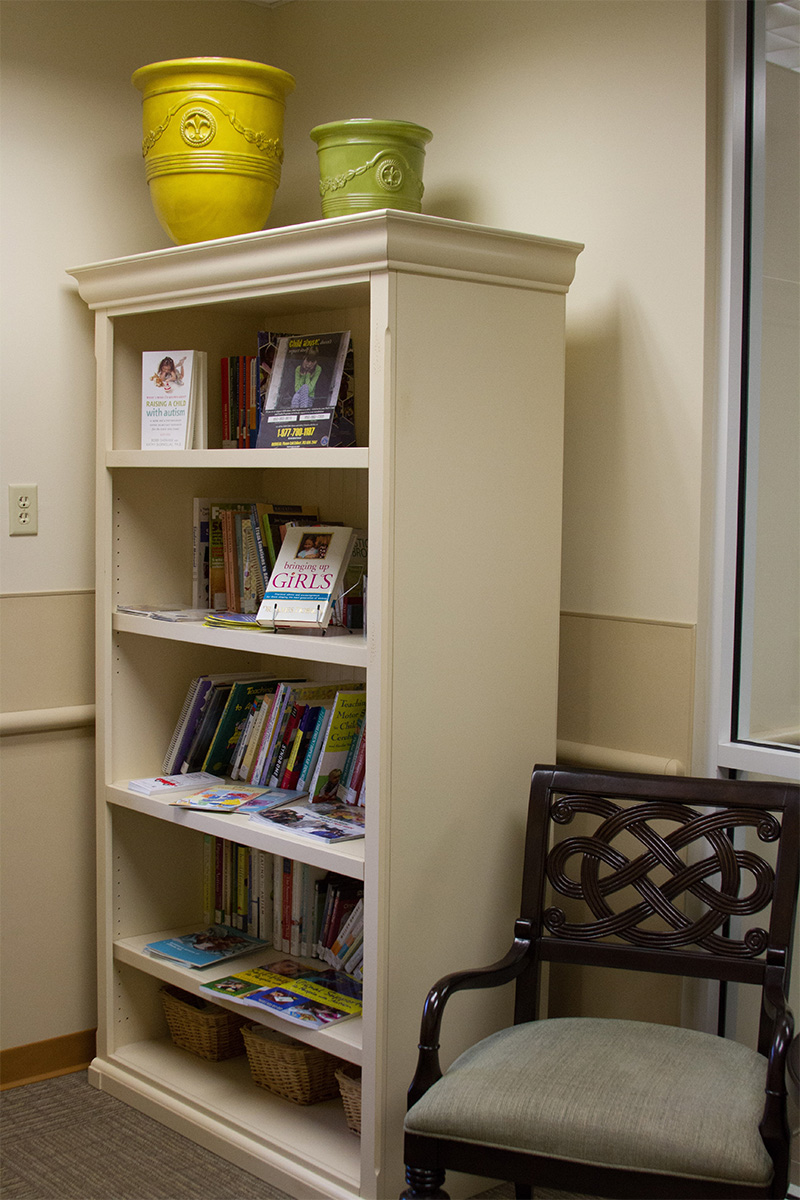 Just as your facility requires restrooms for adults, so too your facility needs professional work space where staff can comfortably work on items for their classrooms. The availability of this area in your program can send a powerful message about how you value your teachers and caregivers as professionals. It may sometimes be difficult for staff members to work on children's portfolios or assessments or the weekly curriculum if there is no desk or adult-sized chairs in their classrooms. If your space will permit, offering some more adult-focused spaces with relevant resources, where staff can access not only the professional library items, but also computers, printers, copiers, and other relevant office supplies, is a great way to support your staff. If you have limited facility space in your program, consider making your break or training rooms multifunctional and allowing those to also be work-related spaces.
Building Learning Communities
As a manager in a center-based child and youth development program, you have the opportunity with trainers or coaches to encourage authentic, self-initiated professional development experiences for staff. One such experience is known as a professional learning community. Hord (1997) notes that, "three words explain the concept [of a professional learning community]: Professionals coming together in a group—a community—to learn." In a childcare or educational setting, professional learning communities are groups of educators and administrators who meeting regularly to share expertise and work collaboratively with the goal of improving their teaching and best supporting children's development and learning. There are five characteristics of an effective professional learning community, according to Shirley M. Hord (1997):
Supportive and shared leadership: This means that you and your trainers and coaches must see yourselves as learners along with the staff. There is a sense that everyone in the program supports professional learning and is invested in program excellence.
Collective creativity: This means you and staff continually work together to spark new ideas, reflect, converse, and inquire. You focus on solving problems by applying new ideas.
Shared values and vision: This means you and staff have agreed on why professional development is an important part of your program. You have a shared focus on child learning and development.
Supportive conditions: This means you and staff have time and space to talk. It also means you have the kind of relationship with staff that encourages communication.
Shared personal practice: This means staff members are expected to help one another by observing and discussing their work.
When these elements are in place, groups of child-development professionals can engage with one another to improve their professional practice. As a manager, you can facilitate this process and ensure that the structures are in place to continue its success.
You could help build learning-community experiences specifically about the environment. Perhaps each month you focus on a different central aspect of the environment (e.g., home-like features, incorporating natural materials, or making it culturally relevant). You could share relevant resources you found with staff members and ask them for their ideas and resources. Staff members could then share the ways they are working on that concept right now in their indoor and outdoor environments. You or your trainers or coaches could share how you focused on that aspect within shared program spaces (e.g., hallways, entrances, or staff break rooms).
Model
You can model the creation and maintenance of strong environments by incorporating some of the essential elements you want staff to enact in their classrooms into the other spaces staff use, such as staff training rooms, staff break rooms, the kitchen, hallways, etc. Consider:
How materials for staff are organized. Are they arranged in such a way that you and the staff can easily access them? Are they arranged in such a way that they evoke learning? Perhaps in the staff break room you offer a small display of a new resource or a board sharing an interesting project recently completed by one of the classrooms. These small touches can evoke staff's engagement.
The aesthetics of the staff spaces. Are there home-like elements such as plants or soft furniture in your office or the break room? Are there ways you can incorporate nature, items of beauty, or the personality of your program into the other spaces staff use? Even occasionally having a vase of fresh flowers in the break or staff resource room can send a power message that staff are valued.
How diversity is represented in your staff spaces. Just as we want materials for children and youth to be culturally relevant, make sure you model this in the spaces you create for staff development and recuperation.
Your staff break room should be a relaxing space for your staff. Remember that working with young children and youth, although extremely rewarding, can also be very physically and emotionally taxing. Your break room should allow staff to take a bit of reprieve, to recuperate before returning to their work with children. Invite staff to offer their ideas for the design of their break space and ask them what items or materials they would like within it. Work with your family or parent associations to see if they would be willing to donate or volunteer their time to improve these spaces. Once again, this is a powerful way to show staff that their well-being is important.
Also, consider the organization and appearance of your office and the messages it send. This is another space where you can model some of your vision for what the learning environments in your program should be like. A cluttered space can make staff feel that they cannot trust your organization, or it can be distracting during difficult conversations.
See
Watch the following video to see examples of high-quality spaces for adults that support the creation and work of professional learning communities. Think about how you could work with trainers or coaches to create environments like these for staff members.
Monitoring Ongoing Professional Development
Before working with children, staff should be oriented to the program's philosophy, goals, expectations, procedures, curriculum, policies, and requirements. Then, staff should participate in an organized professional development program. The National Association for the Education of Young Children recommends staff members develop an annual individualized professional development plan. Developing individual professional development plans will be covered in more detail in the Professionalism and Program Management courses. As a manager, you may be responsible for designing, delivering, and documenting your trainers, coaches, or staff members' progression through their individual professional development plan. It is important to be organized and proactive about this process. Here are strategies that can help:
Create portfolios or binders for each staff member.
Make checklists of completed training opportunities.
Use online systems, such as the Virtual Lab School.
As you develop and update staff's individual professional development plans, do not forget to include resources, training and documentation related to the preparation and maintenance of high-quality indoor and outdoor environments.
Explore
You are responsible for the professional development of a large number of staff members. This can be difficult to manage, and it requires complex organizational skills. Download and print the Adult Learners Activity to reflect on your own practice. Think about how you can ensure all staff members engage in the professional development they need.
Apply
Download and print the Tips for Building a Professional Library document. Reflect on your responses and use them to help you build a professional library.
Glossary
Modeling:
The act of demonstrating a skill or strategy for a learner
Professional learning community::
A professional development approach in which staff and leaders "continuously seek and share learning and then act on what they learn" (Hord, 1997)
References & Resources
Hord, S. M. (1997). Professional Learning Communities: Communities of continuous inquiry and improvement. Austin, TX: Southwest Educational Development Laboratory.