Objectives
List benefits of outdoor play for school-age children.
Identify activities and learning experiences in outdoor environments that can serve as extensions of the indoor learning environment.
Design an outdoor learning environment that is safe, supportive of engagement, and organized with designated areas for various types of play and learning.
Learn
Know
There are many benefits to children and youth playing outside. They can release energy, use loud voices, play vigorously, and engage in messy projects outdoors. In addition, children can explore the plants and animals in their local ecosystem. Research has helped us identify many other benefits to playing outdoors (Children and Nature Network, 2012), such as:
Better physical health
Numerous opportunities to strengthen motor skills
Stress relief
Greater visual-motor integration (or the ability to control hand or body movement guided by vision)
Greater creativity
Stronger verbal and social skills
Production of vitamin D (an essential vitamin for bone health) through exposure to sunlight
Increased attention and cognitive abilities
In addition, playing outdoors and having opportunities to connect with nature may be particularly beneficial for some children with special needs. A study of 7- to 12-year-olds with attention deficit hyperactivity disorder (ADHD), showed that children displayed less severe ADHD symptoms after they spent time in "green" settings, and the greener the outdoor environment, with more grass and trees, the better the effect (Taylor, Kuo & Sullivan, 2001).
We also know that the quality of the outdoor environment matters. Children are more likely to enjoy and engage in environments that are flexible, where equipment is open-ended and can function in multiple ways (e.g., balls, sandboxes, self-constructed forts), and where active play is supported. In fact, playground design can impact children's creative thinking, sense of competence, and motor skill development.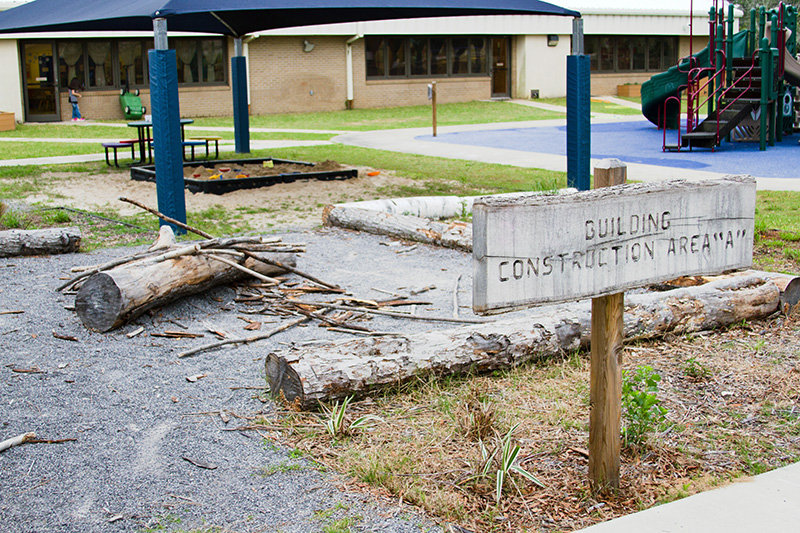 Outdoor environments will look different from program to program. Some might have a wide-open green space, wooded areas, and gardens, whereas others may mostly utilize a paved area. Depending on your school-age program, the outdoor environment may include a dedicated outdoor play space at your program location, or you may use nearby outdoor spaces such as a local park. Some may have permanent climbing and gross-motor equipment, while others have equipment carts that are brought out during outdoor time. It is important to understand the strengths and constraints of the outdoor spaces available to you, so you can proactively consider design ideas and materials that make the most of your outdoor environment.
The purpose of an outdoor environment is to encourage children to be active, to give them a break from being indoors, and to support learning in a variety of environments. Similar to an indoor learning environment, your outdoor space should be safe and organized and include planned activities as well as free time.
To provide some guidance when planning for outdoor learning spaces, the Standards for After School and Youth Development for outdoor environments from the Council on Accreditation suggest:
The outdoor space is suitable for a wide variety of activities, active and quiet.
There are regular opportunities to participate in outdoor activities (at least 30 minutes of every three-hour block of time at the program).
Children and youth can easily access a variety of outdoor equipment and games.
Any permanent equipment is suitable for the ages, sizes, and abilities of the children and youth in the program.
When designing a school-age outdoor space, it is important to consider the following:
Adequate space for play for the children and youth in your program (large programs may need staggered outdoor times to keep it from being overcrowded).
Sheltered space that provides shade and protection from the weather.
Easy access to a source of drinking water.
Close proximity to a bathroom (to ensure staff maintain staff-child ratios and adequate supervision).
Easy access to indoor space (in the event of inclement weather).
Accessible storage for outdoor play equipment.
Safe Outdoor Spaces
Continually evaluate your outdoor learning environment to ensure the equipment is safe and the environment is free from preventable risks. You must consider fall zones, surfacing, access to shade, and the conditions of materials and equipment.
Look for these items and correct them before children and youth are permitted to play:
Missing or broken parts
Protrusion of nuts and bolts
Rust and chipping or peeling paint
Sharp edges, splinters, and rough surfaces
Unstable handholds
Visible cracks
Unstable non-anchored large play equipment (e.g., playhouses, climbers)
Wear and deterioration
Broken or worn electrical fixtures or cords
Many programs utilize outdoor spaces and playgrounds that are used by the community in the evenings; perhaps your program shares a community park. Even if your playground is protected by a fence, it is still possible that hazardous materials could find their way onto the playground. Before you take children and youth outside, you must be vigilant about inspecting the outdoor space each day. Look for:
Debris: glass, cigarette butts, litter, building supplies
Animal excrement and other foreign material
Mulch that is spread too thin
Standing water, ice, or snow
Surfaces that are too hot or cold for children to touch safely
Natural objects that might cause harm: sharp rocks, stumps, roots, branches
Unsafe insects (anthills, beehives, or wasp nests) or plants
Ditches, holes, wells, traps
Exposed power lines or utility equipment
Remember to check the temperature of play surfaces. Metal or plastic slides, benches, and poured concrete surfaces can get very hot and very cold. Inspect surfaces for cracks caused by temperature changes or water damage. Follow your program's safety guidelines to ensure that all equipment is in compliance with safety standards. Be sure to use the checklists from the Safe Environments course to monitor and check the safety and security of your program's outdoor space.
Design and Materials
Make the most of the space you have. Not all outdoor spaces are ideal, but that does not mean you have to settle for a playground with only metal play structures and asphalt. Get creative! Your local home improvement store can be a great resource. Utilize recycled materials. Consider filling plastic rain gutters with dirt and letting children and youth use them as planters. Ask for volunteers to install bird feeders or raised garden beds. "Offer materials and tools of the best quality you can afford, materials that let children shape their own ideas and enable them to realize their potential as image-makers and knowledge-builders," writes early-childhood educator Ursula Kolbe in Rapunzel's Supermarket (2015, p. 10).
Your outdoor play space will foster creative play if you include "loose parts," or open-ended play materials, that children and youth can use for construction, such as recycled cardboard boxes, crates, PVC pipes, and milk cartons. Enclosed spaces (e.g., playhouses, forts) that are part of the playground—or, even better, that have been constructed by children and youth themselves—tend to foster pretend play. Just make sure you have good visibility into these spaces.
It is also important to include equipment that will help children and youth work on their gross- motor skills. Gross-motor skills involve large-muscle movements and include running, jumping, throwing, and maintaining balance. Fixed playground equipment is not necessary for children and youth to experience high levels of physical activity outside. In fact, children are often most physically active when they play with portable equipment such as balls, bicycles, and Hula-Hoops.
Accessibility
Just like indoor spaces, outdoor spaces must be organized for independence, easy use, and learning. Children and youth must be able to easily access materials and equipment. Outdoor paths, walkways, and stairs should be clearly marked and free of obstructions. It is important to make sure gross-motor play can happen safely in one area without disrupting play in another area. You will want to separate the quiet activities (art, writing, and reading) from the loud and active activities (ball play, bikes, and running).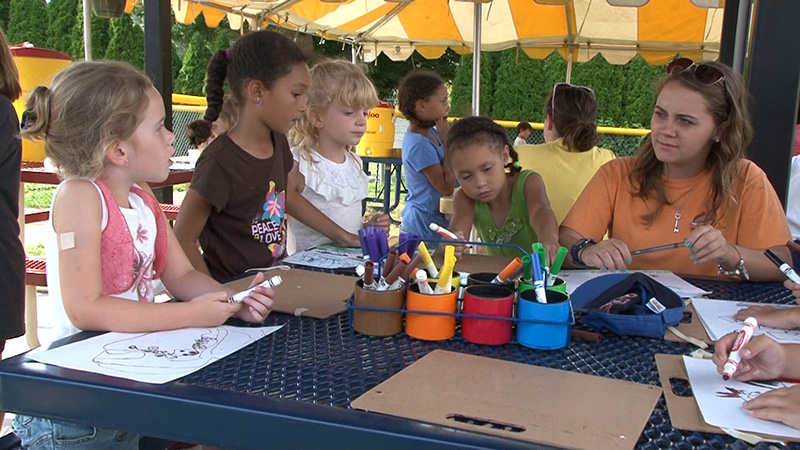 Regarding gross-motor equipment, the size and level of equipment must be developmentally appropriate for the children and youth in your classroom. Body size and skill of children can vary greatly for school-age programs in particular, so you will need a variety of different balls, bats, bikes and helmets. There should also be enough gross-motor equipment (e.g., bikes) so that children and youth can use the equipment without a long wait. Outdoor toys such as balls and art or writing materials can be placed in easy-access bins, buckets, containers, or baskets. This will make it easy for children to help clean up when it is time to go back inside.
Consider the needs of individual children. Some children and youth, especially those with special needs, may have difficulties within the outdoor environment. You can make adaptations for these children and youth just like you would in the classroom. You can adjust the materials and spaces (install a wheelchair-accessible swing, install railings, lower or raise gardening plots) to best fit their needs. As discussed in the previous lesson, talk with children's families and your trainer, coach, or administrator, to know what modifications may be necessary. Also, as outdoor play can be a place for "letting loose" and for children to use their louder voices, make sure you have calming spaces available outside. Calming spaces can include an accompanying bin of soothing materials. For more information on guiding children through outdoor calming activities, see the References & Resources section of this lesson.
Outdoor Learning Areas
Carefully design outdoor learning areas to support the full range of children's play and activities. You can create activity areas, much like you do for your indoor space. These areas may include quiet, manipulative, physical, nature, social, dramatic, and art. Many of the same materials you provide indoors can be used to promote engagement outdoors.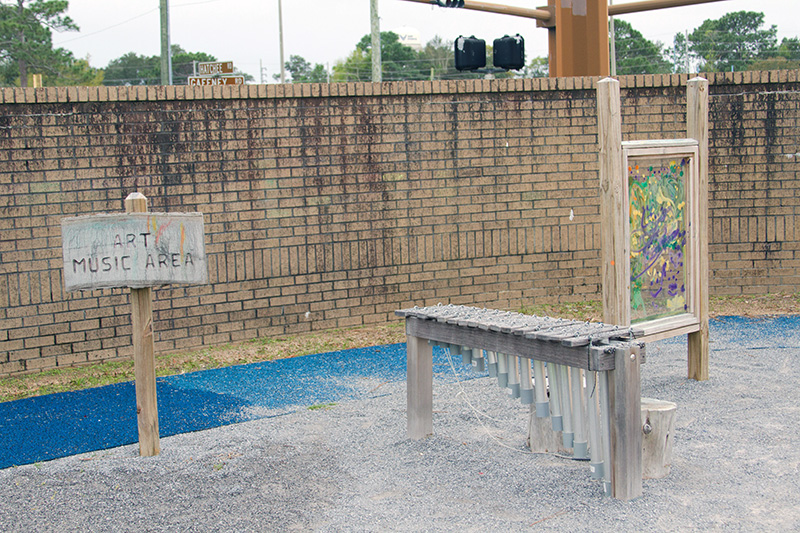 The environment should be seen as the third teacher (Wurm, 2005). Children and youth benefit from the outdoors—fresh air, sunshine, open space, exposure to nature and experiences with natural materials. They have opportunities to grow and learn, affecting all areas of development. You can support children and youth by reflecting on the importance of outdoor experiences, asking open-ended questions and planning ways to include these experiences in learning. You can reflect by asking yourself:
As I observe children outdoors, do I notice differences in their attention and learning? What are their interests and are they represented?
How do the children experience the different spaces or areas that have been designed outdoors?
How does the outdoor environment support each child's development?
In what ways do I create areas of inquiry, curiosity, challenge, wonderment, and movement? What ideas are emerging?
How can I support their ideas with provocations?
Additionally, you should consider how to extend the learning that takes place indoors to the outdoor environment. Take note of the ideas, materials, or supports that are used by the children and youth and think about how these can meet developmental goals and encourage similar learning in your outdoor space. Think about the open-ended ideas you can offer school-age children outside. Incorporating these types of ideas enables children and youth to have new experiences that might facilitate making connections or new discoveries.
There are certain elements that should be incorporated into an outdoor environment, when possible, to create a well-rounded learning experience. Examples of these areas and elements are:
Outdoor Learning Area
Activities and Materials

Quiet area:
Passive activities or materials that allow children to transition to their outdoor space

Painting, reading, blankets to create a comfortable space for lounging

Manipulative area:
Activities or materials that allow children to work on their fine-motor skills

Construction tools, building materials, writing materials, pottery, loose parts (tree cookies, rocks, sticks, pinecones, etc.)

For older children and youth, you could offer sewing, woodworking, or jewelry making, perhaps incorporating natural materials.

Physical area:
Activities or materials to strengthen gross-motor skills

Playground equipment, balls, hoops, nets, jump ropes, bicycles and sports activities, group games (tag, field-day activities), obstacle courses

Remember that with the proper safety gear, older children and youth may also enjoy in-line skating or skateboarding

Nature area:
Activities or materials found in nature; perfect spot for a garden or discovery area

Leaves, bark, seeds, fossils, rocks, pinecones, acorns, measuring tape, clipboards, pencils, magnifying glasses, binoculars, shovels, buckets

You can offer opportunities to examine and explore items or create and tend a garden.

Social area:
Activities or an area that offers a quiet spot for children to talk and interact with each other and staff members

Picnic table with benches, chairs situated away from noise and play

Dramatic area:
Activities or materials that offer an outdoor version of a dramatic play space

Playhouse, sand and tools, bubbles, wheeled toys, other items that promote imaginative and interactive play (for young children), theater, dance, or music props, for example for a musical concert or talent show (for older children)

Sensory area:
Activities or materials that allow children to explore and discover through their senses

Water table, sprinkler, sand box, digging tools (for younger children); creating items to test in different contexts and environments, for example, boats out of recycled materials to test in the water table (for older children)
Planning Outdoor Activities
The outdoor learning environment should be an extension of the indoor environment. It should be designed with the same intentionality, and should evoke, inspire and motivate, and it must accommodate the needs of each individual. Learning time in your outdoor space provides limitless options. You can enhance your activities by bringing them outdoors and using natural elements to teach concepts. The following are examples of how to enhance learning by utilizing your outdoor environment:
| Activity Category | How to enhance learning with the outdoor environment |
| --- | --- |
| Science | Use your surroundings to discuss scientific concepts, such as the water cycle, plant species or solar power. Discuss hydropower by using miniature tools to harness the power of water at the water table. |
| Math | Use the environment and measure cups of dirt or diameters of tree trunks. Discuss patterns by using those found in nature. You can also use tools to measure the field or playing space for different sports. |
| Language Arts | Take children outdoors for story time—especially when reading a story that discusses wind, sunshine, or other natural elements. Provide books that help children and youth identify wildlife in your outdoor space. If you plant a garden, ask them to create labels for the different flowers, herbs, or vegetables. |
| Creative Writing | Use the outdoors as a prompt for creative-writing topics. For example, have school-age children go outside and spend time watching the clouds. They can write a story about the images they find there. |
See
Watch the following video on outdoor spaces for school-age children. The outdoor space available will look different for each program, however this video will provide examples of the variety of activities that can be completed outdoors.
Do
Plan: Make your time outside a learning experience by planning fun and creative activities that use your outdoor environment to enhance your topic. As discussed in the next lesson (Materials), you can use children's current interests to help plan more engaging experiences.
Organize: Maintain a clean and organized environment by creating space for materials to be stored when not in use. Help children and youth think about the best spaces to carry out their ideas so they do not disrupt others or make experiences unsafe.
Try it: Don't be afraid to bring the indoors out. Fresh air is always a good thing for children. Conduct some everyday activities like silent reading outdoors for a change of scenery.
Maintain: Ensure safe and healthy environment by implementing your program's policies and by following safety checklists.
Explore
Watch this video where a training and curriculum specialist explains his approach to the outdoor environment and the kinds of spaces, materials and activities his program has incorporated outdoors. Download and print the Learning from Others activity to help you reflect on what you see. Record your thoughts and answers and share them with your trainer, coach or supervisor. Then see the suggested responses.
Apply
Try your hand at creating activity plans for your outdoor environment. In the Outdoor Environments: Planning Scenario activity, create a plan of your own. View the example for inspiration. When you are finished, share your plans with a trainer, coach, or administrator.
Glossary
Adaptation:
A change made to the environment or materials to help a child be more successful
Enclosed Spaces:
Small spaces (e.g., playhouses, forts) separated from the rest of the play space by walls or partitions, usually with multiple entrances and exits, that tend to foster dramatic play
Green Space:
Outdoor environments that contain many natural elements (e.g., grass, trees, flowers, wildlife)
Gross-Motor Skills:
Movement that involves large muscles; examples include running, jumping, throwing, and maintaining balance
Loose Parts:
Open-ended play materials that children can use for construction; examples are recycled cardboard boxes, crates, PVC pipes, and milk cartons
Outdoor Environment:
Open-air space where program activities take place, including entrance and exit areas, all outdoor play spaces at the program site, nearby areas that children use (such as a local park).
References & Resources
Barbour, A. (1999). The impact of playground design on the play behaviors of children with differing levels of physical competence. Early Childhood Research Quarterly, 14(1), 7598.
Children and Nature Network. (2016). Nature can improve health and well-being. https://eadn-wc04-796033.nxedge.io/wp-content/uploads/CNN_Health-and-Wellbeing_20-9-2.pdf
Council on Accreditation. (n.d.) Standards for child and youth development programs.  https://coanet.org/cyd-standards/ 
Duncan, S., Martin, J. & Kreth, R. (2016). Rethinking the classroom landscape: Creating environments that connect young children, families, and communities. Gryphon House, Inc.
Greenman, J. (2007). Caring spaces, learning places: Children's environments that work. Exchange Press.
Kolbe, U., (2007). Rapunzel's supermarket: All about young children and their art (2nd ed.). Peppinot Press.
North Carolina Division of Child Development. (n.d.). Child care center handbook: Outdoor learning environment. https://www.ncchildcare.nc.gov/pdf_forms/center_chp3.pdf 
Sanders, S. (2002). Active for life: Developmentally appropriate movement programs for young children. Human Kinetics Publishers.
Susa, A. M., & Benedict, J. O. (1994). The effects of playground design on pretend play and divergent thinking. Environment and Behavior, 26(4), 560-579.
Taylor, A. F., Kuo, F. E., & Sullivan, W. C. (2001). Coping with ADD: The surprising connection to green play settings. Environment and Behavior, 33(1), 54-77.
Wells, N.M. 2000. At Home with Nature: Effects of "greenness" on children's cognitive functioning. Environment and Behavior, 32(6), 775-795.
Wiedel-Lubinski, M. (2019). Nature-based mindfulness for more calm & peaceful kids. National Association for the Education of Young Children. https://www.naeyc.org/resources/blog/nature-based-mindfulness
Wurm, J.P., (2005). Working in the Reggio way: A beginner's guide for American teachers. Redleaf Press.