Objectives
Distinguish among spaces for group activities, privacy, storage, and display.
Identify characteristics of a well-designed indoor learning environment.
Learn ways to arrange the environment for your family and meet the needs of the children you care for in your home setting.
Describe how to organize materials for mixed-age groups of children.
Learn
Know
Arranging the Indoor Learning Environment
In Lesson One, you had the opportunity to reflect on the spaces in your family child care setting and the various activities that your family members and your child care participants do in those spaces. You created a floor plan; and on it, you represented on sticky notes the different activities that occur in your program's rooms and outdoor areas. Now it is time to think carefully about arranging those areas. Follow these tips as you arrange areas of your home:
All children will need supervision to keep them safe, so keep sight lines open. When you are changing a child's diaper, you still need to be able to see the other children.
Is there enough space for all family members and children to comfortably move about? Too much open space indoors creates running lanes, which, to prevent injury, you want to discourage. Not enough space between furniture and designated play areas can cause crowding that may lead to injury.
Older children (and some younger children) enjoy a private space at times to get away and relax with a book or quiet music. Think about a quiet, soft space for a child who needs a break from all the activity.
Think about multiple uses for the spaces in your home. Group activities can be done on the floor or at child-size tables and chairs. Messy activities work best in a kitchen, a porch, or outdoors—away from carpeted areas and upholstered furnishings.
Meals and snacks may work best using a family-style setting where older children can assist younger children. Family-style meals provide opportunities for natural group discussions about topics of interest to children. Family-style meals also provide a natural way to reinforce self-help skills (e.g., self-feeding, using utensils, pouring, etc.).
Plan for children's individual needs—for example, places where children can store their coats, backpacks, a change of clothing, etc. Make sure that school-age children have a secure place to store important homework or projects away from the exploring hands of young toddlers.
Adjust your environment to fit the changing needs of the specific children you serve. Be aware that the environment, setup, and materials will need to change as the demographics or development skills of the children change.
Well-designed areas allow for age-appropriate play activities and quiet times. As you review the activities that occur and where you placed them on your paper floor plan, keep in mind the skills and interests of the individual children in your care.
Characteristics of a Well-Designed Environment
Safety
In your family child care home, you take full responsibility for the safety of the children in your care. Safety requirements differ based on children's ages. When caring for infants and toddlers, you will need to cover electrical outlets and put child safety locks on cabinets. It is also important to have a place for young infants to have tummy time that is out of the way of active play areas. For older children, you will need careful safety checks on outdoor play equipment and buildings (checking for wasp infestations in a garage, for example).
Creating and maintaining a safe family child care environment takes the cooperation of all family members who live in your home. Many times a provider will complete a safety check and find out afterward that a spouse left a knife out on the counter, or an older child uncovered an outlet and didn't re-cover it. Because of this, you should continuously monitor safety throughout the day, particularly if there are other family members present in the home during the day. Take time to educate your family members on safety practices and the importance of helping you maintain a safe environment in your family child care home.
As you design and organize the environment in your home, you must critically address any safety issues. Infants and toddlers present different safety concerns than preschool or school age children. The Creative Curriculum for Family Childcare (2009) describes the following safety concerns:
Be aware of ongoing safety hazards. Put away sharp scissors and knives. Keep matches, plastic bags, and purses out of children's reach. Lock away medications, cleaning materials, and other toxic substances.
Check areas every day. Outdoor areas must be checked daily for broken glass, animal waste, trash, and poisonous plants. Cover electrical outlets and keep child safety locks on cabinets.
Develop a schedule for monthly and quarterly checks. Check your first-aid kit monthly; restock items immediately. Hold a fire drill monthly so children know what to do. Check in with families on a regular basis to be sure all contact information is accurate.
Some things only need to be checked once. When you open your home to care for children, it must be checked thoroughly for health issues. Some requirements might include testing for lead-based paint and radon. Major safety components are part of family child care licensing regulations. All equipment (cribs, changing table, safety gate, etc.) should meet Consumer Product Safety Commission standards. Check with your trainer, coach or family child care administrator for specific details regarding requirements.
Storage
As you design and organize your family child care environment, think about storage. Depending on the ages of the children you care for, there will be toys and equipment that may be needed for some months and then as children grow and develop, they are stored away and new materials brought out. Some family child care providers prefer to use wheeled carts that are easy to roll and place out of the way (make sure for safety that the cart's wheels can lock).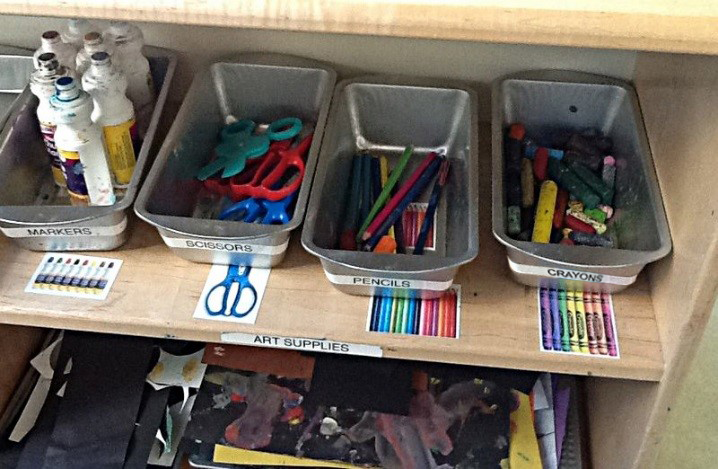 In the picture, you see open bins that are labeled with pictures and words. You will want to have a number of toys and games available to the children at one time, so prepare to store the rest. Rotating toys and games is a wonderful way to refresh your child care spaces. This is also true for posters, photos, books, etc. Many child care programs often rely on clear storage bins that are easy to see inside of, move, and label.
Separate Noisy Areas from Quiet Ones
Use shelves, tables, or other dividers to separate noisy areas from quiet ones. A quiet space to be alone and look at books should not be located right next to a noisy block building area. Use soft textures (pillows, child-sized blankets, baskets) to make an area feel cozy. Noisy areas can be designated by a rug on the floor (e.g., when children build with large blocks, their structures should remain on the rug).
Messy and Non-Messy Space
Keep activities (art, play dough, crafts) that require water near a water source. Simple rules about where messy activities can take place should be explained to children. Paint smocks, oversized shirts, and other coverings can protect young children's clothing from paint, glue, etc. Have clean-up materials (e.g., towels, dish soap) nearby so children can assist in clean up. Some sensory activities that may become messy are best done in the kitchen or outdoors (sand, water play). Always inform parents in advance if you are planning to do messy activities. Families may want this information so their child can dress appropriately.
Welcoming Families
Think about the first space a family sees in your child care home and make it as welcoming as possible. It should be a comfortable greeting area where a parent can drop off or pick up their child. The greeting space should have as little clutter as possible. A comfortable adult chair or rocker is a warm touch. Any information for parents should be easy to access. Adult tools—such as sharp scissors, pens, envelopes, etc.—should be stored where they can be found by an adult, but out of reach for young children. Just as you design your home for children, it is also important to plan a welcoming place for their families.
See
Keeping materials organized and logically arranged helps children learn to use, respect, and clean up the toys after they are done playing with them. Your environment teaches children important skills that they can use throughout their lives. As you design and arrange your family child care environment, think carefully about what you want children to learn. A safe, warm, bright, and well-designed child care environment allows children to explore, question, experiment, grow, and learn. Your careful environmental arrangement supports children as they grow to become self-confident and competent adults.
Summary
As you plan your environment, focus on the children and families you serve every day. Think about the many ways they enhance your family child care environment. Let your environment be fluid as new children and families participate—keeping it fresh is important for you and the children who come each day for caregiving. Take advantage of all the resources available to you to create a warm and engaging place for fun and learning.
Do
Arranging for Your Family's Needs
As you design and organize your family child care environment, keep in mind your family's needs for privacy and space within the home. If you don't want children to enter your teen daughter's bedroom, you may have to lock the door during the day. If you don't want children accessing your family's personal items, they will need to be stored in places that the children cannot reach or in rooms that are not part of your program. You may need to create physical barriers. For instance, stairs must be blocked by child gates to keep mobile babies and toddlers from climbing them.
In your paper floor plan, you identified areas where your family members' activities might occur. As you rearrange furniture and storage, keep in mind that your family will share these spaces with the children in your care.
What aspects of your family members' daily schedule will you need to keep in mind when you schedule families to use your home for child care? Do you have a family member who works a night shift and needs to sleep during the day?
What expectations do you have for your family members when the children you care for are present?
How will you ensure that valuable or breakable items that belong to your family members are protected (e.g., musical instruments, tools, projects)?
How do you ensure that your environment meets the needs of your family members as well as the children you care for in your home?
Balancing your family members' priorities and the business of managing a family child care home takes intentional planning. Communicating with your family members about their needs in advance can help alleviate surprises as you create a well-designed family child care environment.
Organizing Materials for Mixed-Ages 
Providing developmentally appropriate care to children from a wide range of ages (infancy through middle childhood) means that an array of toys and materials need to be available. Organizing the materials means thinking carefully about the types of developmental stages children typically go through during these ages. You may also serve some children with disabilities who have specialized equipment needs.
Organize for optimal independence:
Many families value independence and want their children to be able to choose toys and materials. Even young toddlers and infants can be offered engaging toys on a low shelf (or the floor) and develop independence as they choose toys. As children grow older, they can also find and select items of interest. Arrange puzzles and games so children can find all the pieces and know where to put them away. Labeling clear bins, boxes, or baskets with words and photos of the item helps children learn where to store toys when they have finished playing with them. When toys and games are arranged at the children's eye level, and they can find them and put them away independently, they learn to be competent and confident in their ability to act in the environment.
If a child with special needs is enrolled in your family child care center, you will want to have a parent walk through your home and give pointers and ideas for accommodating their child's needs. Each child is an individual, and parents are excellent resources for suggestions on how to adapt materials. For instance, a child with a physical disability may need extra support sitting in a chair or eating. You and the child's parents can make decisions about how best to fully include a child with special needs in your family child care setting.
Organize by area:
In your home setting, you have areas designated for particular activities. Organize materials by the area where they are used. Small cars, plastic dolls, and road signs can be stored with the blocks. Baby dolls and clothes can be stored in the housekeeping area with the toy stove and dishes. Older children will want space for ongoing projects and a quiet homework area. Decisions about using or not using a computer in your home will also determine how older children's homework needs are met.
Organize for learning:
Keep all areas clean and safe for all children. If older children wish to play with games with small pieces (e.g., Legos), it is important for them to know where they can play so that the pieces are kept away from mobile babies and toddlers. It's important to be flexible about allowing children to use favorite toys in different areas. For example, a preschooler may want to give a baby doll a stroller ride around the backyard. Photos of children engaged in play with toys and each other make excellent wall decorations and can also be put into simple books that can be viewed in the book area. Watch children for their interests and engage families in helping you find materials the children enjoy. Design learning spaces by intentionally posting pictures and children's art work to spur children's imaginations. For example, place photos of construction sites near the blocks and truck area or display children's drawings of their families near the housekeeping toys (just as family photographs would be displayed in their own homes).
Explore
Using the information you have learned in this lesson, examine the indoor environment in your family child care home. You will want to get down at a child's eye level so you can see how a child experiences your family child care home. Read and review the Indoor Learning Environment activity to capture your ideas. Share your responses with your trainer, coach or family child care administrator.
Apply
Think about the furniture, layout, and storage you have inside your home. Does it feel organized for children? Use your floor plan and activities you created in Lesson One and the responses to your questions in the Explore section of Lesson Two. Why is it important to assess your family child care environment? Use this attached tip sheet as a guide as you examine your indoor environment.
References & Resources
Armstrong, L. J. (2012). Family Child Care Homes: Creative spaces for children to learn. St. Paul, MN: Redleaf Press.
Dodge, D. T., Rudick, S., & Colker, L. J. (2009). The Creative Curriculum for Family Child Care (2nd ed.). Washington, DC: Teaching Strategies, Inc.
Harms, T., Cryer, D., and Clifford, R. (2007). Family Child Care Environment Rating Scale, revised edition. New York: Teacher's College Press.
National Association for Family Child Care (2016). Retrieved from: http://www.nafcc.org/